Free Mode Lobbies
All Free Mode Lobbies must be hosted by Virtual World Staff, or at least be overseen by Virtual World Staff. Lobbies will be hosted in friend lobbies, in order to prevent non-RP players getting involved in RP activities. When a City or County Lobby becomes close to reaching capacity, another lobby will be opened to allow for more characters to be online at one time. Characters will simply have to travel between lobbies to be able to access other characters not present in their lobby. The map below show the the City Lobby Limits in Red and the County Lobby Limits in White (The dividing line is roughly Route 68, which can be accessed from both the City and County Servers)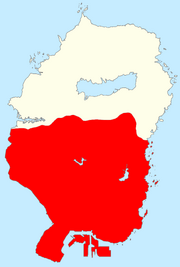 Travelling Between Lobbies
If a character wishes to travel into another lobby that is based in the same area that the character currently is, it is suggested to go to an owned property before going to the other lobby. If a character wishes to travel from the County to the City (or vice-versa), it is recommended they travel to Route 68 before they join into a City Lobby (or County if they are leaving the City) and continue their travel. If you are using a vehicle that must spawn in at a location, please notify VWRP Staff who are overseeing the lobby you are in. They will allow you to call the vehicle back in and set up before proceeding with your voyage.
Prison Mode
Prison Mode must be run and overseen by VWRP staff to validate convicts actively serving their sentencing. Convicted Felons who are serving will have no access to any other lobbies, other than Prison Mode, and will have access to only the Prison Discord Servers (State of PS and State of XB). Characters may travel anywhere they wish inside of the prison, and can attempt a prison break if they wish. Any prison break attempt must survive outside the prison the remainder the Mode is open in order to be rewarded with freedom. Once a sentence is served, a prison break is completed, or an early release is established, a character will get access to all public lobbies, and Discord Servers again.
Staff Events
There will be specific Staff Events that will happen in the role play like, importing of weapons, drugs, vehicles, etc, that any character could try to capitalize through. These events will be announced and those who are the first to sign up to the event will get the opportunity to the event. With this being said, if a character is not available during an event they have signed up for, they will be skipped, and the next to sign up will be chosen. Please note, with most of these event, there is a mandatory authority presence in the event due to the public tip off, in an attempt to remove it from the streets of the role play.
Sporting Events
All sporting events will be hosted by VWRP Staff, and not be done in Free Mode Lobbies. Characters involved in these sports will be notified ahead of time so those that can attend may sign up at their discretion. Any character could become an athlete in the role play, however some events may be for professional athletes only.
Character Events
Any character may set up a public event if they wish too, which will be hosted in the Free Mode Lobbies. It is suggested that anyone wanting to set up a public event, contact local authorities and advertise their event to the community of VWRP to get the most attendance as possible, while being a safe public event. Character Events have no limit on how long they can be, although it is suggested you check local, state, and federal laws to make sure your event is legal.
Admin




Posts

: 164


Join date

: 2017-05-24



---
Permissions in this forum:
You
cannot
reply to topics in this forum